Book Review
Churning the Earth: Making of Global India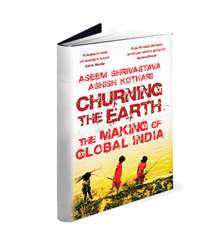 Authors: Ashish Kothari and Aseem Shrivastava
Publisher: Penguin Viking
Pages: 416
Price: Rs 699.00
Honourable Tarja Halonen, Finland's President from 2000 to 2012, reviews 'Churning the Earth...' exclusively for Ecological Democracy.
Brilliantly researched and anecdotally rich, 'Churning the Earth: Making of Global India' by Ashish Kothari and Aseem Shrivastava is a book that takes the veneer off India's so called growth story to reveal a predatory corporate lust for profits that has caused large scale environmental damage to our forests, water bodies and mountains and which in turn has led to loss of livelihoods of millions among India's marginalized majorities.
Review by Honourable Tarja Halonen
The goal of sustainable development is quite well accepted globally. Its implementation, on the other hand, faces challenges. Many people have hoped for and worked towards global actions bearing in mind the basic idea that "global challenges need global actions", but the most recent development has been slower and trickier than what we initially imagined.
The Millennium Development Goals have been a success story in all their pragmatism. Every goal has not been reached, but big steps have been taken forward. It is of utmost importance to speed up and strengthen our activities to prepare for the year 2015. At the same time, we now have a window of opportunity for new, broader global goals. Out of the MDGs only MDG 7, ensuring environmental sustainability, is a clearly environmental goal. The new global goals will need to include a stronger environmental aspect.
Sustainable development is a modern trinity. It consists of economic growth, which is inclusive and socially just as well as respects planetary boundaries. For the post 2015 era we need to continue on the path of the MDGs, but we also need more environmental goals and a more analytic approach to economic growth. I am sure that we need a global approach.
We need much more activities at the regional, national and local levels. We do not have global governance, and personally, I do not even dream about it. It is not possible to build a global democracy effectively enough, when the basic structures are different in various parts of the world. I dare to doubt whether global governance could ever be close enough to the people and a flexible part of their everyday life, which are prerequisites for people feeling empowered. The question remains: how to share rights and responsibilities in the world?
I have read Aseem Shrivastava's and Ashish Kothari's book "Churning the Earth – The Making of Global India". It is very interesting, and I share most of the views. I do not dare and try to be an expert in what India or its citizens should do, as this task belongs to them. But I think it is necessary to understand the variety that this large country contains. The population and its diversity are bigger than in the European Union, and even we in the European Union have had difficulties to understand correctly that diversity is a richness, not a problem.
Consistency is needed between the principles and practice of human rights and democracy. The importance of rule of law and good governance is underestimated too often, but these are the means for people to experience democracy and human rights in everyday life. The same logic applies to environmental issues; declarations, agreements and laws do not mean anything if you do not see them in your own life. The citizen is not just a customer or a consumer, who requests ready-made services – but certain "services" should in fact be guaranteed.
In Finland, as in the other Nordic countries, we have positive experiences of the welfare society. It consists of a strong state, but also decentralization. The countries are quite large with sparse populations, and therefore the capital cities cannot reach all citizens easily, but national legislation, rule of law and good governance guarantee equity. In Finland social and health services are under the parliament's authority, while organized by local communities and with many NGOs involved. A system like this requires high quality education for people. I consider it very important to create public services so good that the majority of people have no need to use private services. This is especially the case when it comes to education. Otherwise public services are considered to be charity for the poor, not a question of human rights or national human capital.
Economic prosperity is not everything, but equality has an economic value as well. I co-chaired the UN High-Level Panel on Global Sustainability, which produced a report for the Rio +20 summit. Our Panel was unanimous about the issue that when it comes to global resources, the human capital has, in practice, been underused. This is the case especially concerning the youth, the poor and women. The countries which have avoided large inequalities have succeeded also economically better. This issue might be worth studying further.
Population dynamics will affect the balance of the future. We should pay special attention to girls, because if girls are able to complete their education, they enter work life more prepared and have better prospects for their own livelihood and health as well as that of their families.
When it comes to bilateral co-operation between various countries, perhaps this could also be used as an element of the Delhi Sustainable Development Summit, which I have had the honour and pleasure of participating in during many years.
Lastly, the launch of the web journal "Ecological Democracy" will offer a possibility to continue the discussion on sustainable development and to provide detailed information on its various aspects, including good governance. I welcome the launch of the journal and wish the journal all the success in its aspirations.
**********************