Churning the Earth: Making of Global India
By Ashish Kothari and Aseem Shrivastava
We bring to you Kothari's speech at the 2012 Lovraj Kumar Memorial Lecture (LKML), made a couple of months back. Kothari, one of the authors of the book, spoke about the rampant environmental degradation in pursuit of the dystopic dream of globalisation that the Indian elite is currently enamoured with.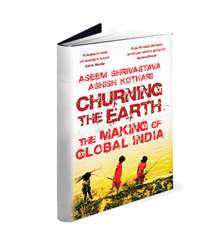 Ironically, India's current PM Dr. Manmohan Singh, the father of the post-1991 reforms, had as the finance minister in 1992 delivered that year's Lovraj Kumar Memorial Lecture. Dr. Singh had then said development needs and environmental concerns should be in harmony. He had claimed economic reforms would help the state raise the kind of resources required for environmental protection.
Ashish Kothari, founder of environmental group Kalpavriksh, gave a talk on his book 'Churning the Earth: Making of Global India' that he has co-authored with environmental economist Aseem Shrivastava at the Lovraj Kumar Memorial Lecture organized by the Society for Promotion of Wastelands Development (SPWD).
In 'Churning the Earth: The Making of Global India', Kothari and Shrivastava argue that the current development model was unstable and needed fundamental changes.
In his talk, Kothari said the current development paradigm was being achieved at the cost of weakening of environmental regulations. He said the Indian society has paid a heavy ecological price for the apparent record breaking economic growth of the last decade. "Do we have ways that not just confront the current crisis that globalised development has caused but also provide answers to human well being?" he asked.
He established how our planners are besotted with a single minded pursuit of double digit economic growth rate despite a mountain of evidence that this growth has not trickled down to the millions of India's poor. But our political leaders and economists have continued to assert that economic growth has to happen at any cost. And they are actually quite right for it does happen at any cost.
But that cost is actually hidden from our decisions makers in North Block and Yojana Bhavan. Kothari cited how in the last twenty years much more is being fished out of Indian territorial waters than ever before. Big operators with mechanized trawlers have moved in threatening livelihoods of millions of small fishermen and putting immense stress on sensitive marine ecosystems. The result is that fishing stock in our territorial waters has declined.
Similarly, unregulated mining has had horrific ecological and social impacts. Thousands of acres of forest land is currently under mining reconnaissance. Central and state governments have become liberal with giving permissions for reconnaissance and exploration of mining with the result that 15 per cent of India's land mass is under mining reconnaissance at present. A company can today get up to 50000 sq km of area for mining exploration. The 2008-09 mining policy actually suggests that if a mining company is given exploration and reconnaissance license then they should be automatically considered for undertaking mining in the area if they find minerals can be extracted viably.
Analysis of information released by Ministry of Environment and Forests, Centre for Science and Environment and later by Kalpavriksh indicates that there has been a significant increase in the rate at which forest land is being diverted for mining and other development projects. All of this is happening while the government is talking of the need to harmonize environment and development concerns and to protect the environment for future generations.
Plastic production and its use has increased multiple times. The per capita plastic consumption has gone up significantly. India produces 5,500 tonnes of plastic waste every day. In 2012, it produced 8 lakh tonnes of electronic waste.
In April 2009, there were 403 million mobile users in India; a little less than half of them did not have bank accounts. This goes on to show the consumption pattern of electronic goods and the manner in which redundancy is built into the electronic systems so that phones go out of fashion every two-three years and new ones need to be bought.
The Supreme Court had in the year 1997 issued an order banning the import of hazardous wastes into the country. Yet, toxic e-wastes find a way into the country under the garb of recyclable wastes. While it is widely known that we are facing biodiversity loss, we lack robust data on this. Some years ago many scientists were of the opinion that the rate of India's biological diversity loss and threat of extinction ranged from 10% to 65% based on varying projections. This, Kothari said, was extremely alarming.
According to a 2008 report "India's ecological footprint: A business perspective", produced by Global Footprint Network (GFN) and Confederation of Indian Industries (CII), India has the third largest ecological footprint in the world next only to USA and China. The report also said that we were using nearly twice the sustainable level of natural resources that the country can provide. And that the capacity of nature to sustain humans has declined sharply, by almost half, in the last four decades or so.
Kothari said our developmental-ism was clearly unsustainable. The adverse impact on us as human beings was evident in terms of loss of livelihoods of people who directly depend on natural ecosystems, like fishing and farming communities and tribal people.
************************************************
Write A Comment